Fab Easy Quilt Patterns
Easy quilt patterns begin with fabulous, easy quilt blocks. Select fabric from your own stash - yardage, jellyrolls, 10 inch squares - to make easy, fun gorgeous quilts. Explore quilting today!
Half Square Triangle Ruler Tutorial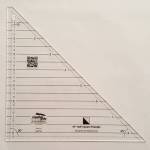 Make quick work of HSTs with a half square triangle ruler! See how to use two different types.