How to Fussy Cut Fabric for Quilting
See two ways to fussy cut a specific motif or area of fabric to use in quilt blocks.

Fussy-cut a specific motif or area of fabric and use it in quilt blocks such as attic window, square in a square or the economy quilt block.
Let's see two easy ways to do this quilting technique. Links are provided after the instructions to show how the resulting squares can be used in quilt blocks.

Fussy Cutting Instructions
Fussy Cutting with a Regular Quilting Ruler
Step 1 Unfold your fabric to a single layer. Center a quilting ruler, about the size that you want the square to be, over the area of the fabric that you want to cut out.

Step 2 Cut around the ruler to cut out the fabric square.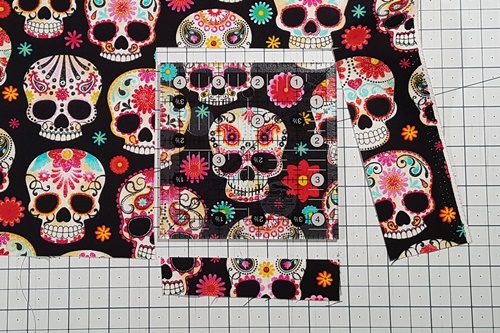 Here, I centered the center markings on the ruler in the middle of one of the skulls. This fabric is busy. Each motif has little background fabric surrounding it.
Now when this square is used in a quilt block one skull is the center of attention.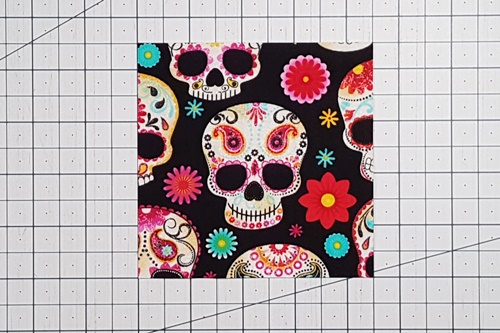 Fussy Cutting With a Fussy Cut Ruler
A variety of special fussy cutting rulers are available from various manufactures of quilting rulers. This is a demonstration of the Creative Grids (R) Square It Up and Fussy Cut Ruler.
The center of this ruler is marked by intersecting 45 degree lines. Concentric squares of solid black lines are marked at 1 inch intervals. Concentric dotted white lines are marked at half inch intervals. At the corners of these white lines are holes for marking on your fabric.
Fussy cut rulers have fewer measurement marks and make it easier to see the area that we are going to cut.

Step 1 Center the middle of the ruler over motif to be cut out.
This fabric has lots of background space surrounding each motif. Decide how much background space you want to still surround the motif when it's cut out.
Step 2 Use a pen to mark on the fabric using the holes in the ruler at your chosen measurement line.

Step 3 Remove the fussy cut ruler to see the markings on the fabric.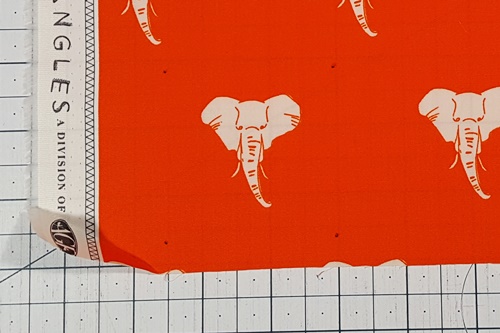 Step 4 Align a regular square quilting ruler with the markings on the top and right sides and cut.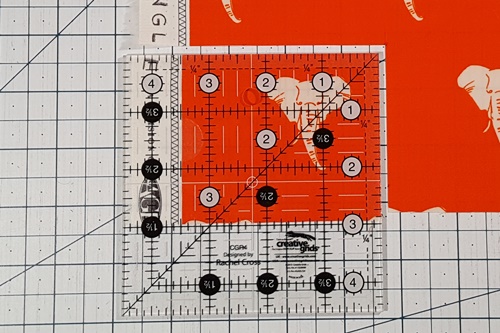 Step 5 Rotate the fabric 180 degrees. Align the ruler with the markings and cut.

Here's your square ready for use in a quilt block or quilt pattern.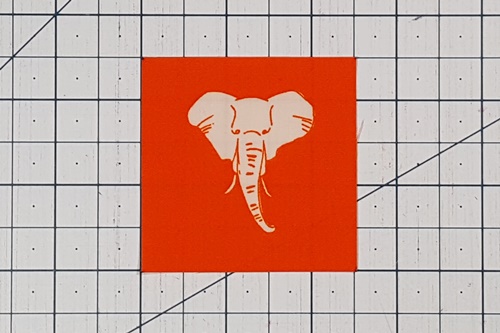 The ruler works just as well on larger motifs.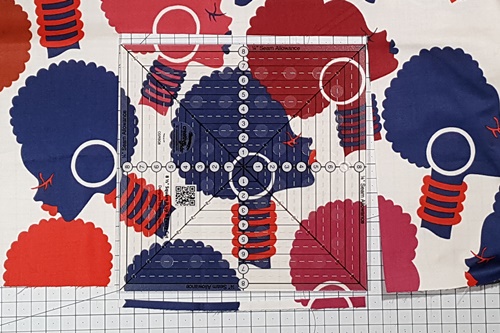 How to Use Fussy-Cut Squares
Here are a few ways our cut outs can be used in quilt blocks. One way is to frame them using strips of fabric in log cabin style...

Click the links below to see other ways of framing fussy cut squares...

Subscribe to the Quilt Blocks Digest newsletter for updates, special offers & exclusive content!

You will receive an email asking you to confirm your consent to subscribe. You must click on the confirmation link contained in that email in order to be subscribed and receive emails.

Your email address is never shared. Unsubscribe any time.