Easy Quilt Block Patterns

Quilt block patterns to make traditional and modern quilts! See step by step photos of how to piece blocks using fabric.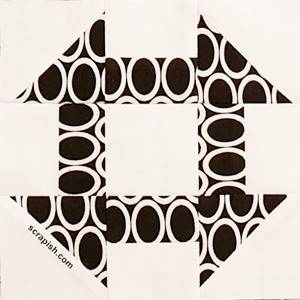 Churn Dash Quilt Block
Quilters of every level of ability from beginner to experienced will find a block or two that appeals to them.

Quilt blocks are the building blocks for traditional quilts and some modern quilts.

Scrapish.com provides you with a wide variety of blocks to choose from.
Whether you like simple blocks made from squares and rectangles or a little more challenging block made from triangles you will find several options to try.
Each block is done in an exciting rainbow of color - red, purple, green, orange, turquoise, pink, yellow.

Neutrals - black, white, brown, gray, cream - are included as well.

You'll see a wide variety of fabrics that have motifs suitable for babies, children, adults and holidays such as Halloween and Christmas.

I love the fabric! Some of my favorite designs include skulls, folklorio, 30s prints, black and white fabric, floral motifs, stripes, dots, tone on tone prints and animal print (skins) fabric.
Easy Quilt Blocks
With quilting, what I love more than fabric are easy, big blocks! (Can I get a hallelujah!)
A lot of the blocks here will have units made from squares and rectangles.
For variety, interest and challenge you will find some blocks made from triangles, hexagons and circles.
On scrapish.com you will find instructions to make blocks that range in sizes from 6 inches to 18 inches.
Needless to say, when I actually make a quilt pattern using the block it will use the larger size blocks. :-0

Quilt Block Tutorials
The block tutorials include
approximate fabric requirements to make one block
a picture that shows the block units cut from fabric
cutting chart for at least two different block sizes
step by step photos of how to make the quilt block
helpful tips for trouble spots
Quilt Block Patterns
The tutorials for block patterns are listed alphabetically.

Bear Paw

Chinese Coins
Churn Dash
Crazy Quilt Block

Double Hourglass Block
Drunkards Path
Dutchman's Puzzle
Flying Geese
Four Patch
Four Patch Variation (Disappearing)
Friendship Star
Log Cabin
Wonky Log Cabin Block
Maple Leaf
Monkey Wrench
Mosaic
Nine Patch
Nine Patch Variation (Disappearing)

Pinwheel
Plus Sign

Rail Fence
Road to California
Sailboat Quilt Block
Sawtooth Star
Shoofly
Snowball
Square
Square in a Square
Star of Hope
Streak of Lightning

Tile Block
Yankee Puzzle

more quilt block patterns to come...

Quilt blocks make quilt tops interesting. You'll have favorites no doubt.
Choose a block and get started making a quilt!
Also, to see the four patch quilt block used in lots of quilt patterns visit quiltindex.org and type in a keyword of the block name, such as 'four patch', in the search box.