Easy Quilt Patterns and Blocks
Beginners, start quilting today!

Discover easy quilt patterns - applique, baby, star, modern, traditional. Use scraps, precuts and yardage to make fab quilts. Lots of 12 inch blocks!

| | | |
| --- | --- | --- |
| churn dash | maple leaf | 8 point star |
It's simple: here you find and explore quilt blocks, patterns and quilting techniques to make quilts that reflect your unique style.
I like to quilt easy and scrappy.
Big blocks, mini quilts, improv quilting techniques, lots of different fabrics, traditional quilt blocks or patterns, modern quilts, baby quilts - they all suit me!
Join me for lots of ideas for easy quilting ...

Easy Quilt Blocks
Blocks are the basis of most quilts, especially traditional ones. Modern quilts may use blocks or not
Lots of traditional blocks can be made modern to make simple, exciting, fun quilts!
Here, you'll find easy quilt block patterns for simple and easy to replicate quilt patterns...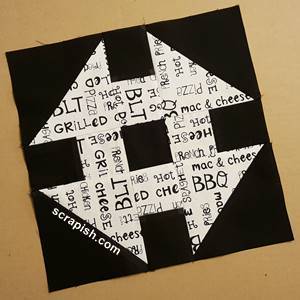 monkey wrench block
And though I am not aiming to include all blocks (there are sooooo many :-o) on the site, I will share enough to offer you a wide variety for your quilty creations.
You will find blocks pieced in real fabric...always a nice treat!
Suggest a Quilt Block
Don't see the block you want? Contact us to suggest a quilt block to be published. Signup for our newsletter to find out when the block is published.

Scrappy Quilting Style

Scrappy describes my style of quilt making and I call it scrapish (I made up the word, I think).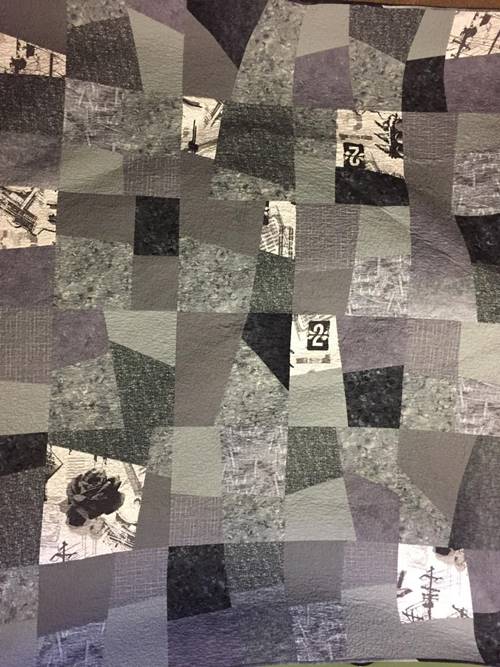 modern four patch quilt
I like to quilt with big blocks and use many different fabrics in one quilt.
My fabric choices are usually from different lines of fabrics and fabric designers. Lots of shades of one color or many different colors.

The fabric may be a true scrap or it may be yardage.

I usually take traditional blocks and use improvisational, or free-form, quilting techniques to cut them up and/or piece them together.
My hope is that this results in a quilt top that is a cohesively cobbled masterpiece :-).
What can you expect to find on scrapish.com?
How to Quilt Basics

Learn how to make a quilt in 5 basic steps...

make a quilt top
select batting
choose a backing fabric
quilt your quilt
bind your quilt
How to quilt... There's a lot know. So quilting for beginners step by step is how we'll get through it. You'll see lots of pictures and easy to follow instructions!
Improv Quilting Techniques
Do you want to spend hours following a pattern that leaves you with an unfulfilled sense of accomplishment?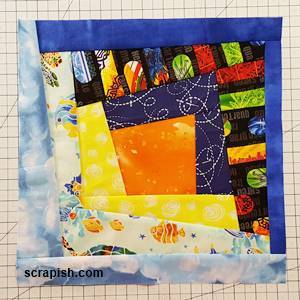 wonky log cabin quilt block using an improv quilting technique
Of course you don't! You want to put your stamp on a pattern and save time too! But, how?
Use easy improvisational quilting techniques to make our easy quilt patterns uniquely your own quilt.
cut and insert
crazy-piecing

Time-saving Techniques

chain piecing
strip piecing
Easy Quilt Patterns
Now, I wish I could stitch up all the patterns that will appear on scrapish.com. But, unfortunately, time just won't allow it. ;-)

But, a very handy computer software program called Electric Quilt (R) allows me to generate lots quilt patterns to show you how the quilt blocks would look in a quilt.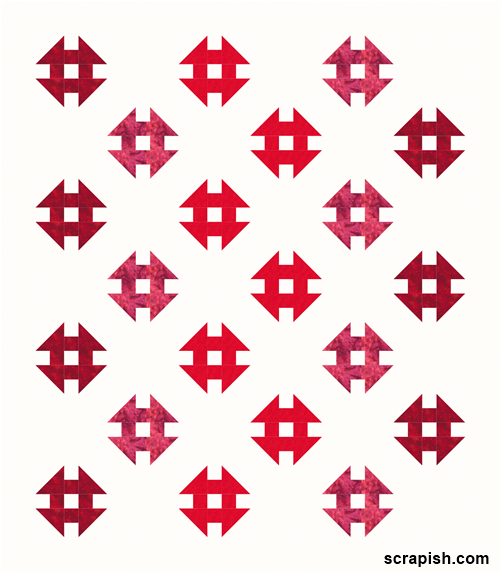 monkey wrench quilt pattern
You'll see how to quilt with charm packs, jelly rolls, fat quarters, etc. Here are a few easy patterns to help you begin your quilting journey...
Subscribe to Our Newsletter

Want to stay in the know? Subscribe to our newsletter (opens new window). Get fresh content delivered (handled by Mailchimp) to your email inbox!
new quilt blocks
quilt patterns
special offers
subscriber only content
Scrapish.com is Quilting Made Easy
Fair warning... You may become addicted to quilting! (Don't say I didn't warn you!) :-)

Relax, find an easy quilt pattern and enjoy the journey of stitching up your masterpiece. You can quit at any time. :-)

Happy quilting ...

Wanda