The Curated Quilt Blocks Collection

What's Your  Favorite Quilt Block?

Browse quilt blocks to make your own quilts. Easy beginner, applique, modern, star and more block types. Many in the sought after 12-inch block size using various quilting techniques!
| | | |
| --- | --- | --- |
| 8 pointed star block | hourglass quilt block | wonky log cabin block |
Actually, that's a bit of a trick question. :-) You may find it difficult to pick just one quilt block as your favorite.
You may really like the Ohio star block but find the log cabin quilt block beautiful too! Both are easy to make. But you find log cabin quilt blocks simple and oh so versatile! You have a tough time choosing an absolute favorite.

No need to choose.
You can find a block to use in your next quilt in the quilt blocks library available here.
More of your favorite blocks are added monthly to the collection. You'll want to bookmark the library or this page. Or, better still, you can subscribe to the Quilt Blocks Digest newsletter!
What? You want to see your favorite block now, but can't find it...drop me a note.
In the meantime, you'll find plenty of inspiration in these well loved quilt block patterns...
---
Easy Blocks
monkey wrench block
Beginners, you will be delighted to know that there are many easy blocks. A simple square is a block. See how 10 inch squares are used in this easy quilt pattern. Even some blocks that look difficult like the economy block are be easy to make.

Star Quilt Blocks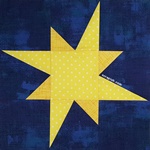 galaxy star quilt block
Talk about being popular...star blocks are a favorite of just about every quilter. You are sure to find one that you will love - friendship, galaxy, 8-point star. So many names, so little space to name them all.
Log Cabin Blocks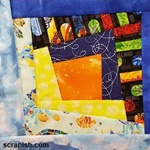 wonky log cabin
Designs similar to log cabin blocks have been found in ancient Egyptian tombs and even on an English quilt that predates 1830. In the USA they became popular in the 1860s during the Civil War. Regardless of when they first came on the scene they are still popular today. There are many variations on the traditional log cabin block.
Halloween Blocks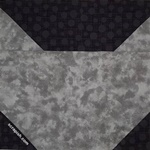 cat's head quilt block
Who doesn't love Halloween? It's a fun time for all with candy available in almost every household! :-) You'll find ghouls and goblins, witches, cats, creepy houses, pumpkins and more in various sizes shapes and colors and everything from bed quilts to table runners and wall hangings.

Christmas Blocks
Christmas tree block
Though not everyone celebrates Christmas, quilt blocks depicting Christmas icons abound. You'll find a number of blocks relating to Christmas including a Christmas tree, stocking, and ornament. Use fabrics in colors to match your decor - silver, blue red, green, white, gold and even black. Today the color black is found in lots of modern quilt block patterns and Christmas fabric designs.

What is a quilt block?
Still wondering what a block is? A quilt block is a component of a quilt. Quilters use small pieces of fabric cut in various shapes (squares, triangles, circles, half square triangles, etc.) to make a block.
Depending upon the style of quilt, many quilt blocks, sewn together into rows or sections, make up a quilt top. A quilt block can be any size, but commercial quilt patterns commonly call for 6-inch, 8-inch, 9-inch, 10-inch, and 12-inch blocks.

Quilt blocks have names. Ohio star, attic window, churn dash, four patch, flying geese, Maple leaf to name a few. There are too many to name them all! :-)

scrapish.com | Quilting Made Easy
Scrapish.com is more than just a collection of quilt blocks. You'll
Fair warning... You may become addicted to quilting! (Don't say I didn't warn you!) :-)
There's a lot to keep up with! Subscribe to my newsletter (or see the right nav bar on any page) to stay in the loop. Don't worry, I'll never share your email address and you can unsubscribe at any time.
Have a question? Contact me.  Let's take this quilting adventure together!