Easy Quilt Patterns

Easy quilt patterns that take beginners step by step to piece a quilt top. Use big blocks to make beautiful quilts. Did we mention they're free!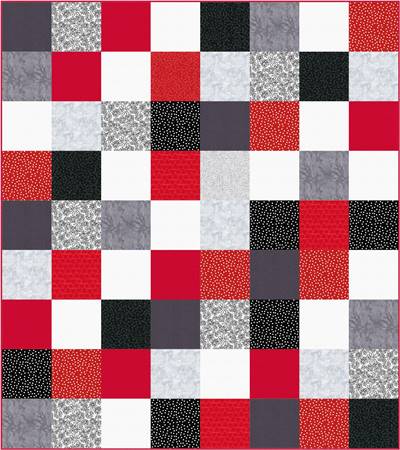 easy quilt pattern made with 10 inch squares
The patterns on scrapish.com range from traditional to modern and somewhere in between. I like to mix it up! :-)
You may see a traditional block, or a variation of it, made modern with the use of modern prints or solids or an entirely new block that I come up with.
Now, as much as I would love to make every quilt that I come up with a pattern for, it is not possible. (Or practical when trying to keep up a website.)

About the Patterns

So, I have enlisted the aid of quilt design software called Electric Quilt.
This software allows me to design quilts quickly, try out different color schemes, draft quilt blocks, print patterns and so much more.
What does this all mean to you?
It means that you most likely will see the computer-generated picture of a quilt pattern.
This way you get to see the entire pattern of the quilt top. That's always a plus!

For every quilt pattern that I design I actually make the block in fabric.
A lot of times by combing through my stash and working with the fabric is where I get my inspiration for designing the quilt top.
Quilt Patterns for Beginners

Never quilted before? These patterns are absolute beginner quilt patterns

Easy Quilt Patterns
These are all easy quilt patterns suitable for beginners. More experienced quilters may enjoy the variety of design.
They are listed alphabetically. One is not necessarily easier than the other...

more quilt patterns to come...

Important Information

Yardage Notations

Most quilt shops require you to purchase a minimum of 1/4 yard of fabric. And if you're buying online the minimum is usually 1/2 yard.
So I round fabric requirements to the nearest quarter yard.
All seams are 1/4 inch unless otherwise noted
WOF = width of fabric
Width of fabric based on 40 - 42 inches usable fabric
Fabric requirements rounded to the nearest 1/4 yard
Fabric Choice

Most of my patterns are designed using solids or almost solid fabric - mottled or tone on tone prints.
The purpose for this is so that you may more easily visualize a quilt in fabrics that you choose.
To get a similar look to that depicted in the quilt pattern simply choose fabrics where the background is a similar color to that of the pattern.

Precut Friendly
If a pattern is precut friendly it will be noted. Common size precuts are fat quarters (18 inch X 21 or 22 inch), 10 inch squares, 6 inch strips, 2 1/2 inch strips, 5 inch squares and 2 1/2 inch squares.

Stash Busting
Of course, I like to use lots of different fabrics in the quilts that I make. So I encourage you to use your stash and scraps.
If scraps are best used versus yardage it will be noted.

Prerequisites
There are many steps in a quilt pattern. The primary step (as I see it) is making the blocks.
A block is made up of units such as squares, rectangles, triangles, half square triangles, quarter square triangles or flying geese.
Knowing how to make a particular unit is a prerequisite to making the block it's used in.

These units are used in many blocks so usually I have posted a separate step-by-step tutorial on how to make them.
Therefore, I will not usually repeat writing these steps in a pattern. I will simply list the page of the particular unit as the prerequisite.
Big Block Quilts
You know I love big blocks! They only add to the easy part. Especially, for twin, queen and king size quilts.
A lot of my easy quilt patterns are made with big quilt blocks - 12, 15 or 18 inch size blocks. This makes for less time piecing and more time finishing the quilt. :-)
I will queue up the links just as fast as I get these easy quilt patterns designed and written. Until then try to be patient. :-)
Subscribe to the Quilt Blocks Digest newsletter for updates, special offers & exclusive content!

You will receive an email asking you to confirm your consent to subscribe. You must click on the confirmation link contained in that email in order to be subscribed and receive emails.

Your email address is never shared. Unsubscribe any time.